Tumbet recipe Ingredients may vary a little (some Tumbet recipes also have courgettes added), but this is the way I've always made it – and it seems to go down well with everybody I've served the dish to!
Preparation time: 60 minutes
Serves: 6
Ingredients
2 large red peppers
2 large green peppers
1 large aubergine
3 large potatoes
about 6 cloves of garlic chopped very small
olive oil
about a pint of tomato sauce (passata is good for this)
Preparation
First of all, you need to slice up all the veg.
After de-seeding, slice the peeper's lengthways about half an inch thick (approx. 12 mm).
Slice the aubergine into rounds – just over an eighth of an inch thick (approx. 3 mm).
Peel the potatoes & slice them into rounds, again just over an eighth of an inch thick (approx. 3 mm).
Now get a large heavy-based pan on the heat & make sure your chopped up garlic is to hand, because now comes the frying session! This cast iron skillet is ideal.
Whilst it is heating up, also get a large ovenproof dish like this one ready & put the oven on a medium setting.
Put enough olive oil in the pan so as to cover the bottom, & once up to temperature fry the potatoes until they are golden brown & starting to get soft.
In the last 30 seconds of frying add one-third of the chopped garlic & keep the potatoes moving so he garlic does not burn.
Once the potatoes are done, place them in the ovenproof dish in a layer – get all the garlic out of the pan too so it does not burn during the next frying operation.
Next, put a little more oil in the pan & fry the aubergine, again until getting soft & , as last time, add the second third of garlic during the last 30 seconds.
Arrange as a layer on top of the potatoes.
Finally, fry the pepper slices & add the last of the garlic as before.
Place the softened peppers on top of the potatoes & aubergines – this forms the top layer.
Tumbet Tomato Sauce
Now if you want to make your own Tumbet tomato sauce – you can, but I have found that Tomato Frito (when in Mallorca) or Passata (when in the UK) is a good 'cheat' & really just as good.
So however you arrive at your tomato sauce, pour it over the assembled veg in the ovenproof dish & then place it in the oven to bake the Tumbet.
Bake until you are sure all the layers are soft (test with a fork) usually three-quarters of an hour to an hour.
Tumbet is an excellent dish to serve with a variety of foods but it is especially good with fish – a nice piece of pan-fried salmon is great!
A large portion of Tumbet will also make a tasty main course for vegetarians.
Make sure everyone gets some of every layer.
This Tumbet recipe may at first seem like a lot of trouble, but after a few times, you will find it easy.
Give it a try, I know you will like it – AND it is very good for you.
Can You Freeze Tumbet?
Yes, you can freeze this Tumbet dish for up to 2 months in the freezer.
What does Tumbet mean?
Tumbet is a word used to describe various stewed dishes in Majorca that have potatoes & eggplants as their main ingredients.
What about dessert?
Don't worry, we've got the perfect dessert recipes to go with this:
Summary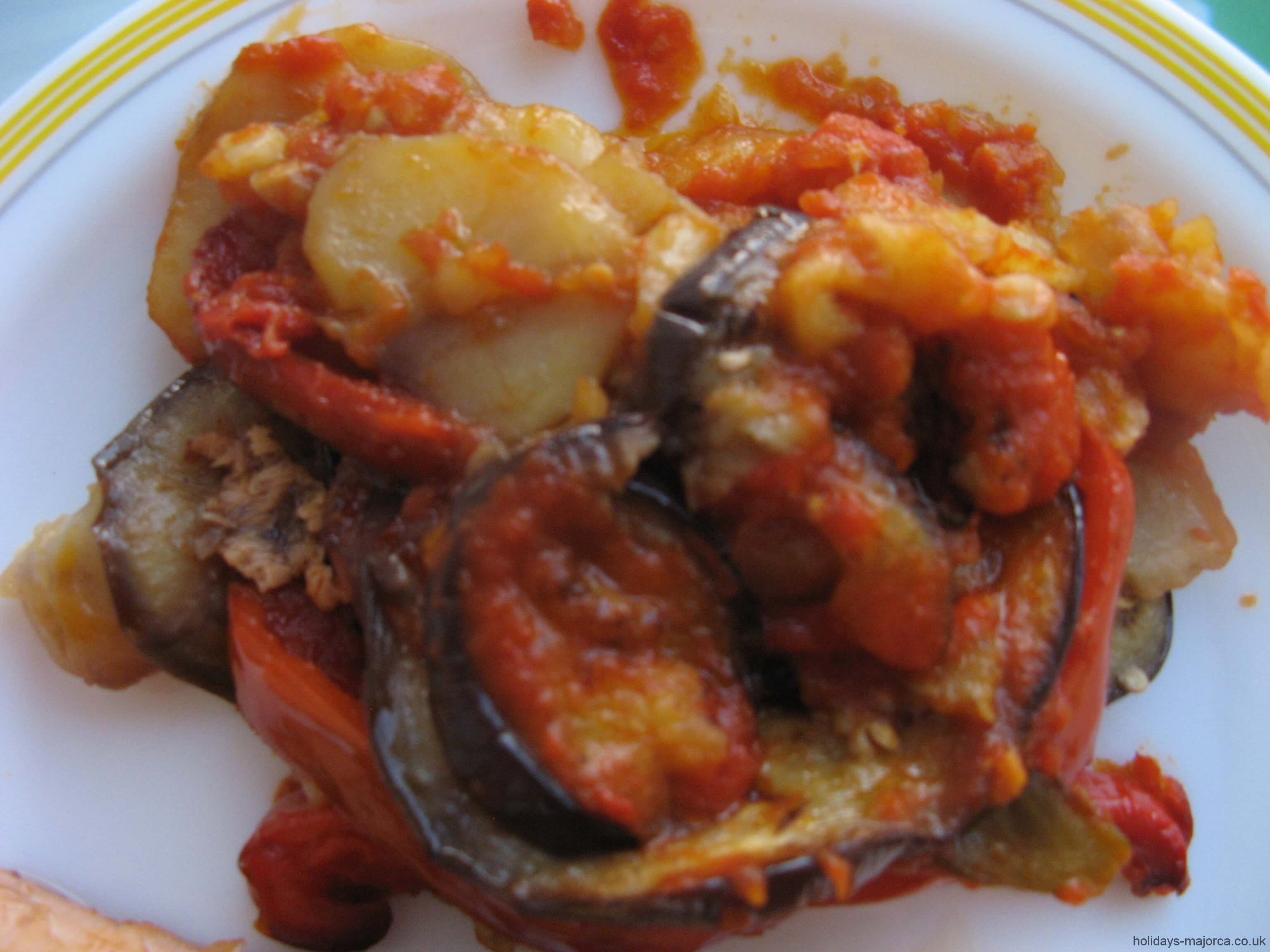 Recipe Name
Published On
Preparation Time
Cook Time
Total Time
Average Rating





Based on 24 Review(s)