This Spanish Omelette recipe will turn out just like the real thing from the restaurants and cafes in Majorca.
The trick is to keep it simple.
It's really simple, fast and tasty!
Preparation time: 30 minutes
Serves: 6
Ingredients
10 medium potatoes
2 onions
6 eggs
Preparation
First, peel 10 potatoes and cut them into cubes, about 2cm each. Put them in warm olive oil and fry over low heat.
In the meantime peel and dice 1 or 2 onions and add to the frying pan with the potatoes.
Once the potatoes are soft and the onions transparent, press them slightly in the frying pan (but do not mash them) and then remove them from the oil.
Beat 6 eggs in a bowl and add the potatoes and onions.
Drain the leftover oil from the frying pan and pour the mix in.
Continue cooking on low to medium heat and when it is half cooked get ready to turn it.
Put a flat plate over the pan and turn it quickly, then pour it back into the frying pan.
That's it!
Now enjoy the perfect and simple Spanish Omelette just like in Majorca.
It is ideal to be eaten warm, cold, with bread …
Share between 4 or 8 people, close your eyes and feel back in Majorca, back on your holidays.
Summary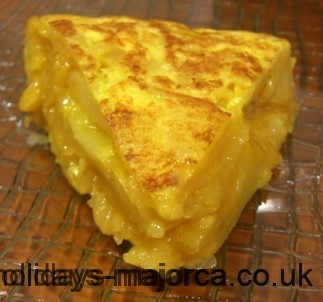 Recipe Name
Majorcan Spanish Omelette
Published On
Average Rating





Based on 2 Review(s)