When having a drink – especially in the early evening, one often feels the need for a little 'nibble' to go with it.
Of course, you can find the usual potato crisps or even salted nuts of various types, but when in Spain……. so why not try what the local's snack on with a drink namely Majorcan bread, olives & aioli / alioli (garlic mayonnaise).
Preparation time: 10 minutes
Serves: 4
Ingredients
200ml / 190g Alioli (garlic mayonnaise)
200g green olives
1 x loaf of bread
Preparation
The bread sometimes can be asked for toasted and with the alioli used to 'butter' the bread, it is a taste that you really have to try.
The olives are eaten at the same time and compliment the overall experience.
If you are not fond of garlic, olive oil can be used instead, and this too is very good.
Once you have has this combination a couple of times, you might start to seek other snacks of a similar ilk – you will soon embrace the rest of the snack menu that is known by the generic name of Tapas.
Tapas is anything that can be served amongst one or more people and can consist, for example, of squid, mushrooms, air dried (Serrano) ham or various types of sausage slices- in fact, all types of food can be served in this way.
It is said that the practice by bar owners, of putting a piece of bread on top of a glass of wine (in order to keep out dirt and dust) led to other 'titbits' being put on the bread as well – this lead to the Spanish custom of 'Tapas'. I for one am glad they did!
Summary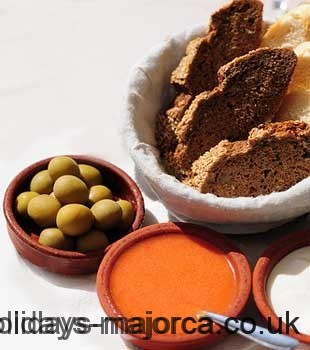 Recipe Name
Aioli / Alioli, Olives and Bread - A Majorcan Snack
Published On
Total Time