Cala Pi is a small & beautiful cove enclosed between cliffs next to the village of the same name in the municipality of Llucmajor, south of Mallorca.
Cala Pi is the perfect choice for calm, tranquillity & relaxation.
The earliest known settlement in Mallorca, ironically it remains one of the least exploited locations on the island.
Cala Pi is a natural harbour on the south coast of the Lluchmajor district & is about forty kilometres drive from Palma's Son Sant Joan airport.
In fact, it's the largest cove on the south of the island.
It penetrates almost 500m into the coast & is flanked on both sides by cliffs about 30m high covered with pine trees.
The cove as formed by the Cala Pi torrent, creating a sandy beach at the mouth where it reaches the sea barely 50m wide & 150m long.
The ruggedness of the surrounding terrain has meant that there is little urbanisation.
This means the environment is generally unspoilt, making it a generally peaceful place of natural beauty.
About Cala Pi
Once on the beach, it is generally quiet & very good for spending a day with the family enjoying its waters, its beautiful natural environment & the places that can be visited nearby.
In the summer months, Cala Pi has a lifeguard service, beach umbrellas & sun loungers for rent, although there's plenty of space to spread out your towel.
There's also a small beach bar with toilets where you can find soft drinks, ice-creams or a snack at reasonable prices.
At one end of the beach, there are some dry docks built in the 1950s where small boats can be cleaned or stored.
This small village is a very touristy natural harbour, but it invites visitors to relax & enjoy peace and quiet.
The village has only one church called Nostra Senyora des Angels.
History & Culture Of Cala Pi
It's believed that the protection from the elements provided by this natural harbour is what attracted the first settlers of Mallorca to Cala Pi.
The rocky coastline has made large-scale construction impossible, so this small village remains a tranquil destination for those in search of natural beauty.
In addition to being famous for its crystal-clear waters, Cala Pi has a Bronze Age settlement, Capocorb Vell, one of the most important archaeological sites on the island.
It is still possible to visit the Bronze Age settlement of 'Capocorb Vell', about 5 kilometres away.
The village of Cala Pi is small & modest, with only the church of Nostra Senyora des Angels & a handful of hotels, shops & restaurants.
The narrow streets run parallel to the coast & the beach can only be reached by steps.
Cala Pi is not a good choice for those with mobility problems due to the steep inclines & numerous steps found around the area
Without doubt, Cala Pi is best enjoyed on foot.
There are lifeguards & facilities on the beach that make it suitable for families, but couples, groups & single travellers are also comfortable here.
During the high season, the beach can get quite crowded, but it is not a destination for late-night partying & noise.
Shopping In Cala Pi
Although you can find enough items for your holiday & day-to-day needs, Cala Pi is not the best place for shopping.
For those who want to spend a day shopping, it is best to go to the nearest town, Lluchmajor, or to the capital, Palma.
Main Attractions In Cala Pi
Cala Pi's main attraction is its beach & coastline, but to get there you have to climb down 147 rocky steps.
It is a beautiful beach enclosed between two natural cliffs.
This makes for spectacular views, where you can see the contrast between the sandy beach, crystal clear waters, the dramatic rocks & lush vegetation.
The beach & cove are only 50 metres wide but stretch out to sea for about 100 metres, making it feel very sheltered.
Providing good protection from the elements, Cala Pi also attracts a good number of luxury yachts, which anchor in the harbour.
Despite its remote location, Cala Pi beach can be very busy during the high season, especially at weekends, as it attracts both tourists & locals.
There are many other attractions available nearby, but you will certainly need to hire a car or book an organised excursion.
The southeast of Mallorca has many lively resorts, nature parks, vineyards and charming little villages to explore.
Mention should also be made of the award-winning beach of Es Trenc, near Ses Covetes & the islands of the Cabrera nature reserve, just a few kilometres off the south coast.
Activities In Cala Pi
Cala Pi is probably the first choice for those who want to get away from it all.
Once you have had a rest on the beach, you can try sailing, water sports, hiking or cycling in the surrounding area.
For walkers, there are several sites of interest, including a watchtower built as protection against pirates.
Before even going down to the beach itself, you can visit the defence tower of Cala Pi, which dates back to 1663 & has recently been restored.
You can also go scuba diving, but with caution due to the large number of boats that can gather in the area.
Cala Pi is perfect for the practice of deep-water soloing (psicobloc).
Since 2018 it has had signposted routes for the practice of this sport.
From here we can access Cala Beltrán through a path that starts next to the fishermen's houses & then we can follow the route to the old defence tower of Cap Blanc.
Along the route, you can see some dolines formed by the collapse of caves, some of which were inhabited in prehistoric times.
You can also walk through the grounds of the old military zone, where the old coastal batteries that guarded the bay of Palma were located.
Events In Cala Pi
Cala Pi is so quiet that you have to travel to Lluchmajor or Palma to find local festivals & events.
Restaurants In Cala Pi
In Cala Pi there are a small selection of bars & restaurants to choose from.
However, if you are looking for top-quality gastronomy, a short trip will lead you to some excellent rural restaurants & boutique hotels.
Hotels In Cala Pi
Accommodation in Cala Pi is limited so if you want to spend your holiday here it's best to book as early as possible.
Living In Cala Pi
Cala Pi is very attractive to those seeking the beauty of nature, but is more popular as a holiday resort than as a full-time residence.
Due to the difficulties of building here, there are still plots of land for sale.
Prices are more reasonable than in other parts of the island, such as the southwest.
Houses & flats are available for less than 100,000 euros.
Penthouses and villas sell for around 400,000 euros.
A high-quality villa could cost around three million euros & there are fewer fincas here than further north in rural Mallorca.
Location of Cala Pi
Cala Pi is located 17 kilometres from the municipality of Llucmajor, on the south coast of Mallorca.
It is only 40 km from Palmas San Joan airport.
From Palma take the motorway towards Llucmajor, exit 13 and continue along the Cap Blanc road.
Then 30 km to our destination.
Cala Pi Beach
Cala Pi is the beach of the village of the same name.
It is between two cliffs full of pine trees.
The beach has golden sand & turquoise waters, although we can also find stones & some rocks.
As it is very sheltered, there is hardly any swell.
This beach penetrates 500m inland between two vertical walls more than 20m high.
It has fine sand, hardly any gradient & is surrounded by a residential area.
With a relaxed atmosphere, it attracts local & international tourists & is ideal for all except those requiring wheelchair access.
The only downside is that in high season it is difficult to find a spot on the sand.
Cala Pi Services
There is a beach bar on the sand itself, but the restaurant is up some steps on the side of the hill.
In high season the cove has a lifeguard service, sun loungers & parasols for hire.
Camping & animals are not allowed.
Parking is easy in the village.
The Surroundings Of Cala Pi
The nearest town to Cala Pi is Llucmajor, about 30 km from Palma de Mallorca.
From there, take the Ma-6015 road, and after about 15 km you will come to a crossroads (suitably signposted) where you turn right onto the Ma-6014 towards Cala Pi.
A very popular option is to get there by boat.
It is known that since prehistoric times, at least since the Bronze Age, this cove was used as a refuge for the boats of the first settlers of Mallorca.
However, caution must be exercised when accessing the cove due to the presence of rocks near the surface entering from the port side.
For this reason, it's recommended to enter the cove through the centre of the entrance.
If we want to get there by public transport line 525 connects Cala Pi with Llucmajor, El Arenal & Palma.
Around Cala Pi there are some small, quiet villages, such as Valgornera & Sa Vinyola.
Further east along the coast, more active spots can be found in Sa Rapita and Colonia de Sant Jordi, & the local wine region is centred around Felanitx.
Access
The easiest way to reach Cala Pi is by car.
However, there are also buses to the village.
There is free car parking.
By Boat
At the entrance to the cliffs there are three stones on the port side, so boats will have to access the central part of the cove to anchor.
This is only possible if you arrive early & your boat is not too large, as the depth inside the cove is between two & five metres on a sandy bottom.
The nearest port facility, the Club Náutico s'Estanyol de Migjorn, is 4 nautical miles from the cove.
Summary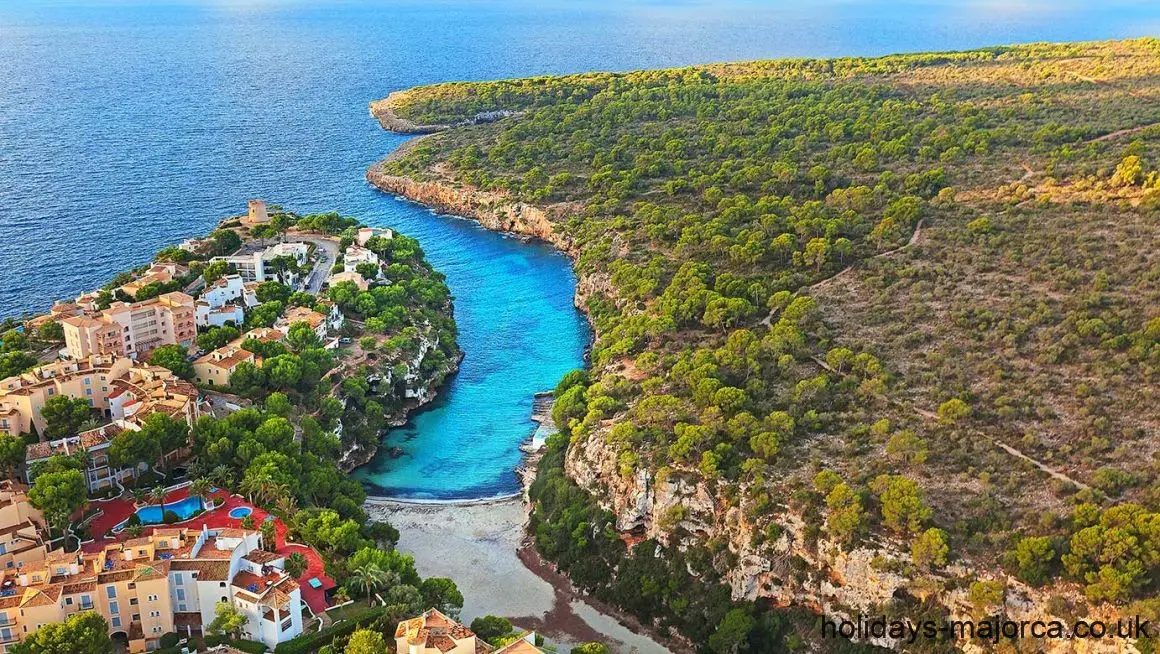 Article Name
Description
Spectacular scenery, paradise beaches, natural surroundings and historical legacy. This is how we can sum up our next excursion to one of the most beautiful spots on the island of Majorca, Cala Pi.
Author
Publisher Name
Publisher Logo