Originally 'invented' in the area around the Spanish city of Valencia on mainland Spain, this dish is nevertheless much in evidence in Majorca and can be found on most restaurant menus.
'Paella' refers to the large flat pan that the dish is cooked in (pronounced pie-ay-a) it can contain anything along with the rice, spices etc. and to be absolutely authentic it must be cooked over a wood fire.
However, the origin of Paella is thought to come from the servants of Moorish Kings mixing the leftover food from banquets in large pots which they then took home.
The word Paella is thought to originate from the Arab word for 'leftovers' which is 'baqiyah'.
Our favourite Paella recipe is explained in this article.
What is contained in the Paella used to depend on where it was being made, for example away from the coast in country areas, you would find such ingredients as rabbit, pigeon or snails, whereas in coastal towns the emphasis would be more towards seafood – prawns, mussels, squid etc. and of course there is always a vegetarian option.
When you are dining today, however, you can have more or less what you want – seafood, game or mixed which has some of both.
Although paella can be eaten at any time, most Spanish people treat it as a lunchtime dish (except at festivals where there is usually a giant paella prepared in the town square).
Every chef has his or her own recipe for paella, and all think their method is best!
We have included the following recipe so you can make your own paella.
You can leave out any ingredients you don't fancy or just use the veg. if you want.
Preparation time: 45 minutes
Serves: 6
Ingredients
4 tablespoon olive oil + 1 tablespoon for sprinkling on later
1 large onion, peeled and chopped
1 large red pepper, de-seeded and chopped
3 – 4 garlic cloves, peeled and thinly sliced
2 long red chillies (optional) sliced on the diagonal
A couple of sprigs of thyme
4 skinless and boneless chicken thighs, cut into bite-sized pieces
Sea salt and freshly ground black pepper
125g chorizo, sliced
1 tsp paprika
Tablespoon of dry sherry or white wine
1/2 tsp saffron strands
200g peas
4 large tomatoes, roughly chopped
500g clams, cleaned
300g king prawns (whole or heads removed)
300g squid, cleaned and sliced into rings
400g Spanish or short-grain rice
A handful of flat-leaf parsley leaves chopped
1 lemon, cut into wedges (for garnishing)
Preparing the Paella
Heat the olive oil in a large paella pan.
Add the chopped onions, peppers, garlic, chillies and thyme.
Stir fry the vegetables for a few minutes until the onions begin to go translucent and soften.
Season the chicken with salt and pepper and add to the pan with the chorizo and paprika
Seal the meat turning all the time.
You will notice that the oil will come out of the chorizo and give the dish a nice colour.
Add the rice to the pan and add a little more oil, if required.
Make sure that each grain of rice is coated in oil. Pour in a generous 'glug' of sherry and let it evaporate then add about a litre of boiling water, this needs to come roughly 1cm above the level of the rice.
Reduce the heat and bring the liquid to a simmer then add the saffron.
Stir well so all the saffron goes into the mix.
Put in the tomatoes and season well. Simmer for 10-12 minutes, stirring now and again to prevent the rice from sticking, don't stir too much or the rice will give out too much starch.
Put in the clams and prawns, put in more boiling water if needed, make sure that the shellfish are submerged.
Cook for 4-5 minutes over medium heat until the prawns turn opaque and the clams start to open up, now stir in the squid and add the peas.
The squid should only take 2 minutes to cook ( don't overcook as it will go rubbery!) check seasoning.
There you have it, the perfect Paella recipe for any occasion!
Summary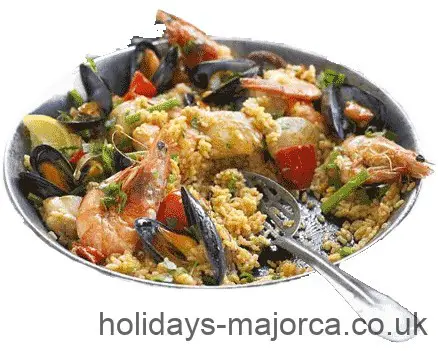 Recipe Name
Published On
Preparation Time
Cook Time
Total Time
Average Rating





Based on 3 Review(s)