Located in the municipality of Calvia, Magaluf is one of Majorca's big resorts, if not the biggest.
The resort of Palma Nova is right next door and it's difficult to tell where one stops and the other starts.
Tourists are mainly from the UK with small pockets of other Europeans to be found, mainly Irish, German and Swedish.
During peak season, Magaluf is definitely a resort for the younger generation (think Club 18-30).
Most holidaymakers spend the day lounging on the beach or around the hotel pool and then, later on, partying into the morning.
Take a look at our top 10 things to do in Magaluf for more inspiration!
Well known as a budget Majorcan resort, Magaluf's party atmosphere continues 24 hours a day!
During peak season (June to mid-September) Magaluf is mainly occupied by the 18-30 crowd and young families, whilst in the off-peak months many of the bars and clubs are closed and the resort becomes a popular destination for the older generation seeking warmer winter climes.
Be warned, speaking from many experiences with the resort during peak season, no matter how much spending money you take, you will probably go through the lot!
The resort is well versed in the art of extracting money from tourists.
However, you'll most likely have some great memories and possibly some new friends.
Magaluf Nightlife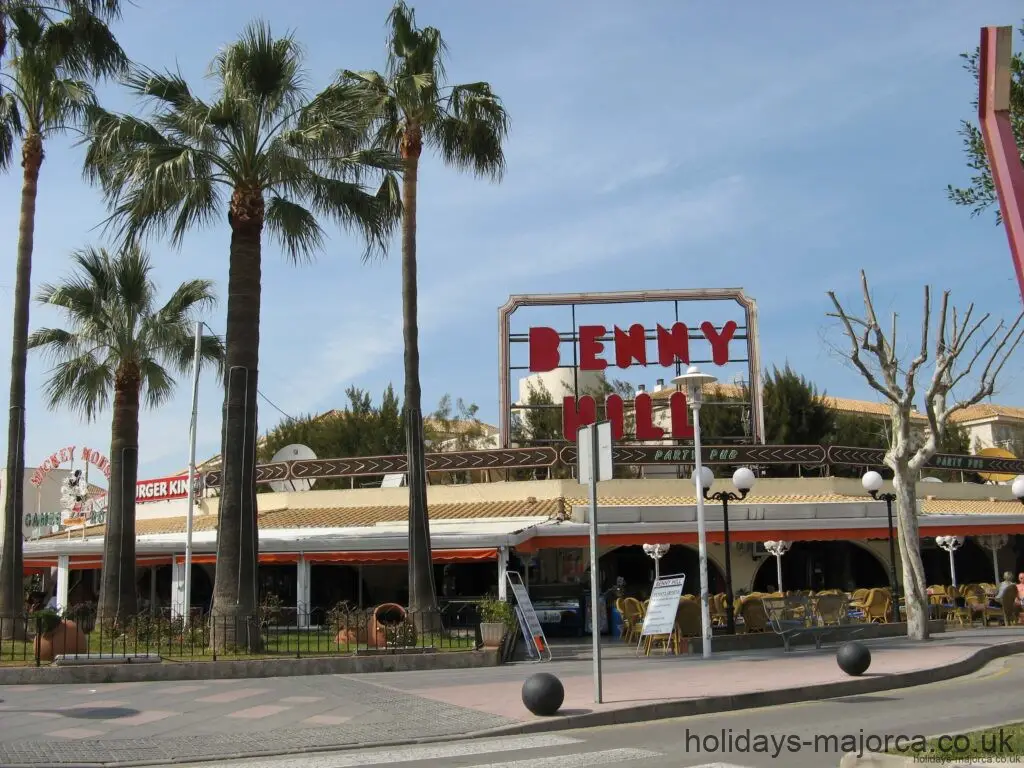 For the youth, the nightlife is Magaluf's main attraction.
During the peak season partying goes on all day and it's the norm to get back after a night out between 4 am and 7 am (possibly even later).
Also, you should be aware that a lot of the bars won't get busy until around 23:00, as many people tend to go out later in the evening, especially as their holiday draws on and the effects of all the booze and late nights creep upon them!
If you're on a tight budget, alcohol can be bought very cheaply in local shops & supermarkets and drunk in the apartment.
When you get to the bars, prices will be a bit more expensive, but no way near what you will pay in a UK pub.
In 2008, the local government of Calvia, Majorca banned any selling activity on the streets, this includes bar and club 'street reps' (the ones that tempt you into their bars with free drinks).
This activity is now illegal in Magaluf and any street touting may lead to the offender being dealt with by the local police.
Avoiding the bar reps used to be a nightmare for some, so this legislation may be a welcome change.
Nightclubs and Bars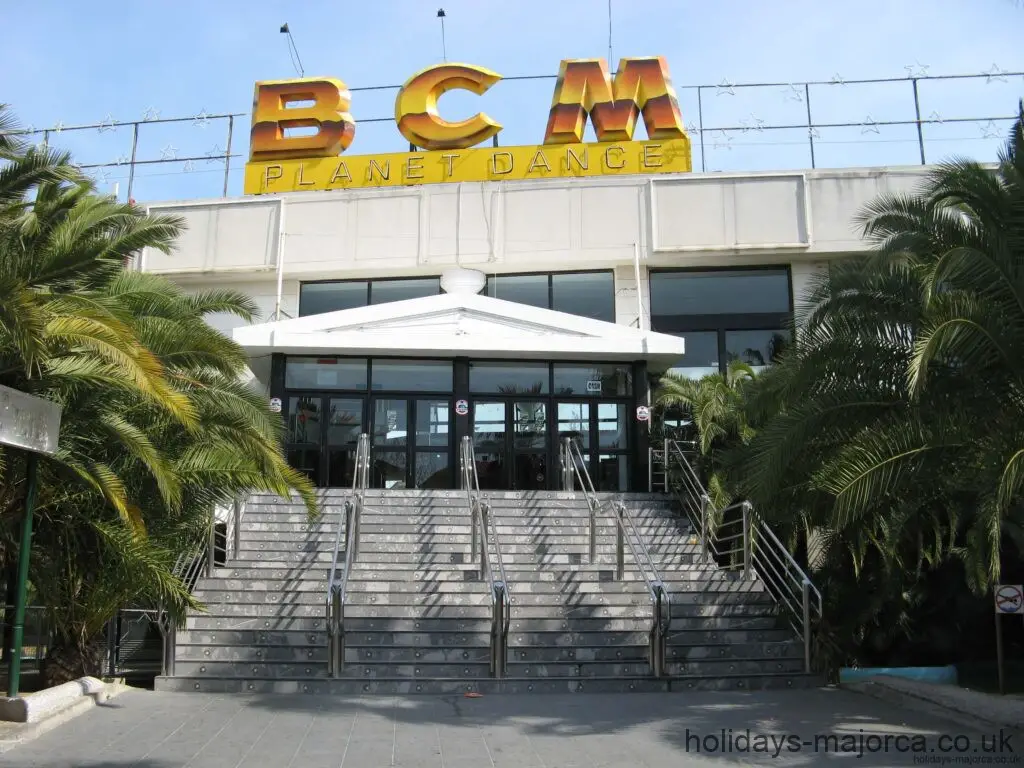 BCM Square and the Main Strip (Punta Ballena) are where the night action centres around.
There are a number of nightclubs in the resort and a pass (the Magaluf Club Pass or MCP) can be bought that gives entry to many of them for a week or two.
The clubs participating in the pass scheme include Honeys Lap Dance, Banana Disco, Tokio Joe's, Buffalo Girls and Boomerang.
The resort's biggest club, BCM, is famed for its foam/popcorn parties and laser shows.
It's a great club, but don't expect anything sophisticated like the Ibiza club scene here… yet.
Each year there are a number of guest appearances from famous DJ's, who normally come along with the likes of Cream.
Previous big hitters have included DJ Tiesto, Paul van Dyk, DJ Sammy, Judge Jules, Pete Tong, Dave Pearce, Erick Morillo and Armand Van Helden.
The club is actually split into two, one being BCMs and the other BCM Millennium, quite why I'm not sure, as the entry ticket gets you access to both.
Expect to pay up to €60 for one of the big nights (i.e. Cream) and around €30 upwards for any other night (it depends on who and what is on).
There are well over 100 bars in Magaluf, so you won't be hard-pressed to find somewhere to have a drink.
Magaluf Attractions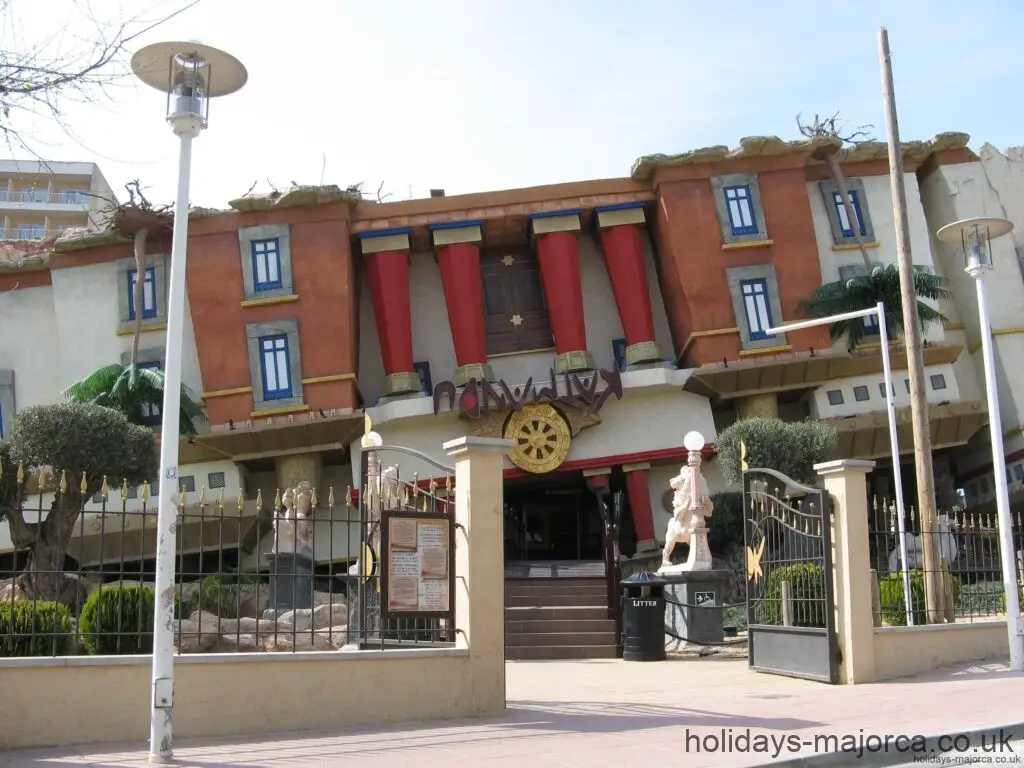 The main attractions in Magaluf are the sun, beach and water sports activities available.
You'll find all the usual activities like paragliding, water skiing, boat trips, inflatable rides, scuba diving, water parks, booze cruising, etc.
The beach itself stretches out for over 1.5KM of fine golden sand.
Magaluf is not particularly known as a cultural hot spot and you will be hard-pressed to find any 'old Majorca' left.
If you're interested in seeing a bit more, I'd advise hiring a car, moped or motorbike.
Moped hire in Majorca can be around €30 per day and 125cc's for around €60 per day.
Unlike in the UK, you can drive on the motorways with a 125cc motorcycle in Spain.
Expect to pay €100 / day and upwards for car hire.
Discounts are normally found for multiple-day bookings (i.e. 3 days) and you may get a discount for groups (i.e. 2 or more bikes/cars), it doesn't hurt to ask.
Make sure you don't forget your driving license.
If the hire prices are a little steep you can always opt for public transport.
The local bus system in Majorca is excellent and you can get a bus from Magaluf to Palma for less than €3, running every 30 minutes.
In addition, the number 50 bus is will take you around the sites of Palma and then back to Magaluf.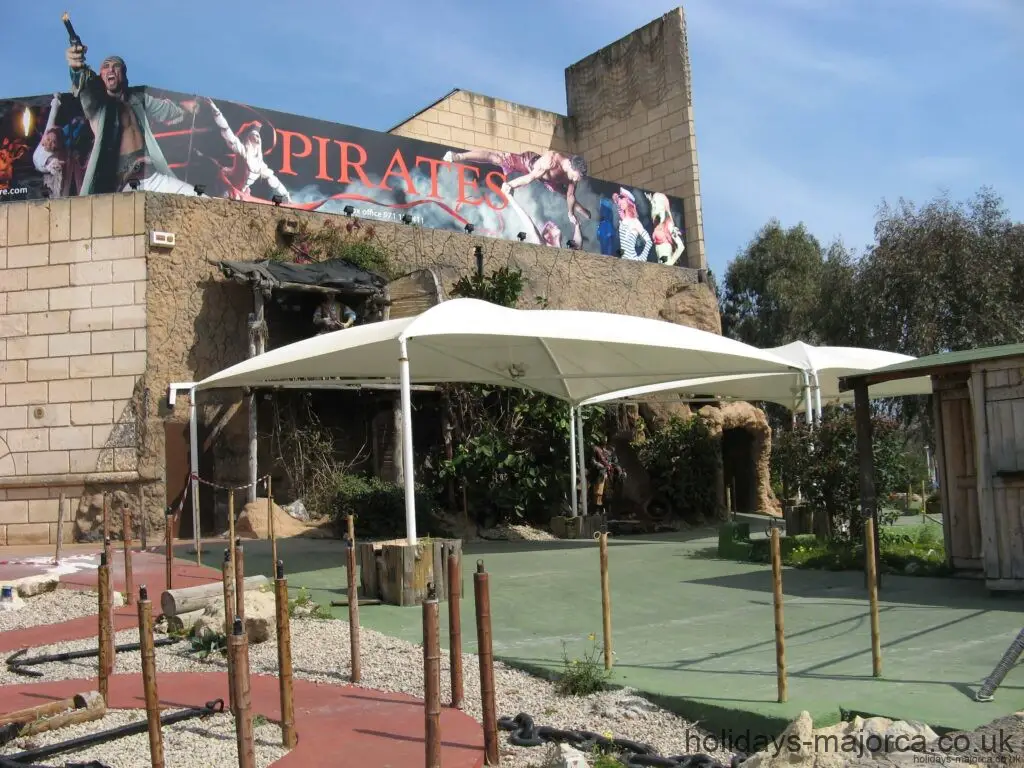 Magaluf Weather
Magaluf most sunshine: July (average 346 hours)
Magaluf hottest month: August (av. 25 oC)
Magaluf least rain: July
Magaluf coolest month: January (av. 9 oC)
| Month | oC | High oC | Low oC | Sea oC |
| --- | --- | --- | --- | --- |
| Jan | 9 | 14 | 4 | 15 |
| Feb | 9 | 14 | 4 | 15 |
| Mar | 11 | 17 | 5 | 15 |
| Apr | 14 | 19 | 8 | 16 |
| May | 18 | 23 | 12 | 18 |
| Jun | 22 | 27 | 16 | 22 |
| Jul | 24 | 29 | 18 | 25 |
| Aug | 25 | 30 | 19 | 26 |
| Sep | 21 | 26 | 16 | 25 |
| Oct | 18 | 23 | 13 | 22 |
| Nov | 13 | 18 | 8 | 19 |
| Dec | 10 | 15 | 5 | 17 |
Magaluf average temperatures
Magaluf FAQ
What is Magaluf known for?
Magaluf is known for its wild nightlife, daytime activities & amazing beaches.
It is party central for anybody visiting the island of Mallorca & is the most popular resort in Majorca for British tourists.
Is there a strip in Magaluf?
The main party strip in Magaluf is on Carrer Punta Ballena with a length of about 400 metres.
What time do bars shut in Magaluf?
The bars in Magaluf generally shut at 02:00.
Clubs & bar/clubs are normally open until 05:00.
Is Magaulf cheap for drinks?
Magaluf is relatively cheap for drinks compared to the UK.
How much money do I need for Magaluf?
To enjoy yourself & relax you shouldn't need more than €100 for each day you're staying.
You can get by on €50 if you need, depending on whether you have food included in your holiday package.
If you're on an all-inclusive package, then €30 per day should be fine, depending on whether you go out of the hotel much.
Where is Magaluf?
Summary
Article Name
Description
A guide to the popular holiday resort of Magaluf in Majorca including details of nightlife and attractions. Map and photos included.
Publisher Name
Publisher Logo