If you're looking for a breathtaking beach to relax on while in Mallorca, look no further than Palma Nova beach.
With its gentle waves and sandy shores, the beach is perfect for swimming, sunbathing, and simply taking in the stunning view.
Don't forget to enjoy a refreshing drink or bite to eat in one of the beachside cafes while enjoying the quiet atmosphere.
Palma Nova has three lovely beaches close to the town.
The main beach, Playa de Son Maties, is 400 metres long.
The two other beaches are slightly smaller, but both have fine-grained sand and lovely clear water.
Just offshore there is a raft from where you can jump & slide into the cool water.
This is very popular among older children.
Palma Nova beach actually comprises 3 individual beaches. They are:
Palma Nova I
Palma Nova II
Son Maties
Each beach has a promenade area lined with numerous bars and restaurants which are popular for walks and rollerblading during the day and early evening.
Palma Nova II is generally considered the best of the three as it has all the facilities you could wish for.
Son Maties is more water sports orientated with activities like waterskiing and windsurfing.
During the evening the area around Son Maties gets very busy with people visiting the pubs, clubs and restaurants.
At the end of the beach, there is an old round watchtower.
This watchtower marks the division between Palma Nova and Magaluf.
Palma Nova Beach Facilities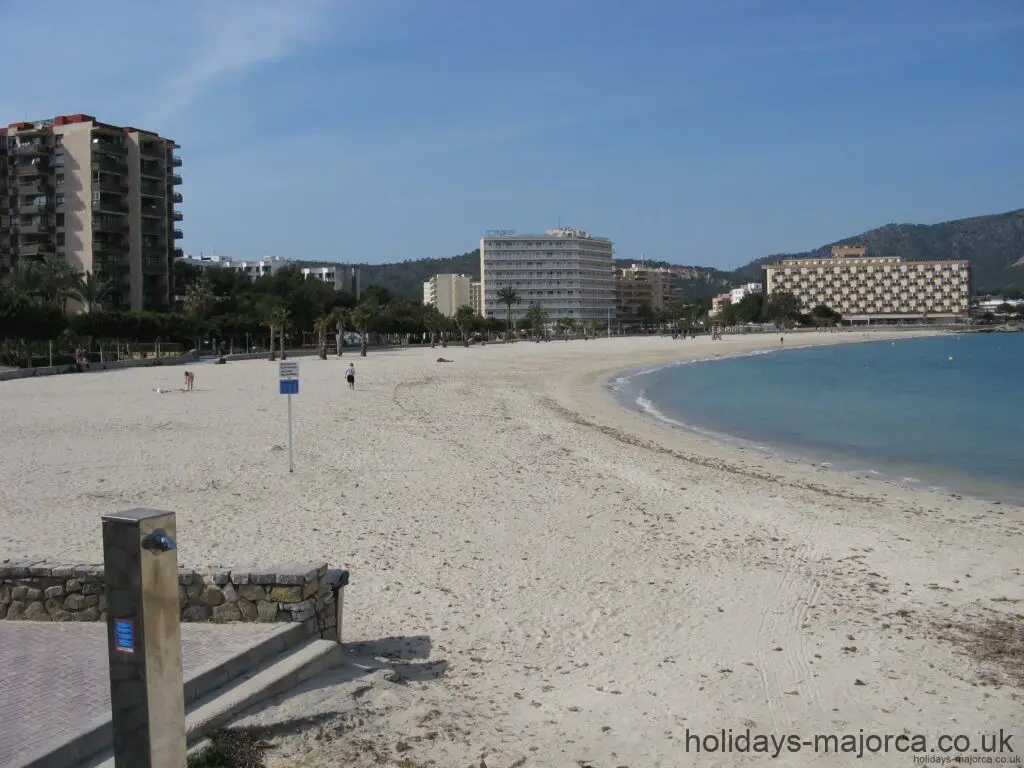 The beaches offer all the facilities expected from a modern holiday resort including:
Toilets
Lifeguard
Showers
Sun loungers (for hire)
First aid station
Wheelchair access
Beach police
Segregated swimming and boat areas
Palma Nova Beach Activities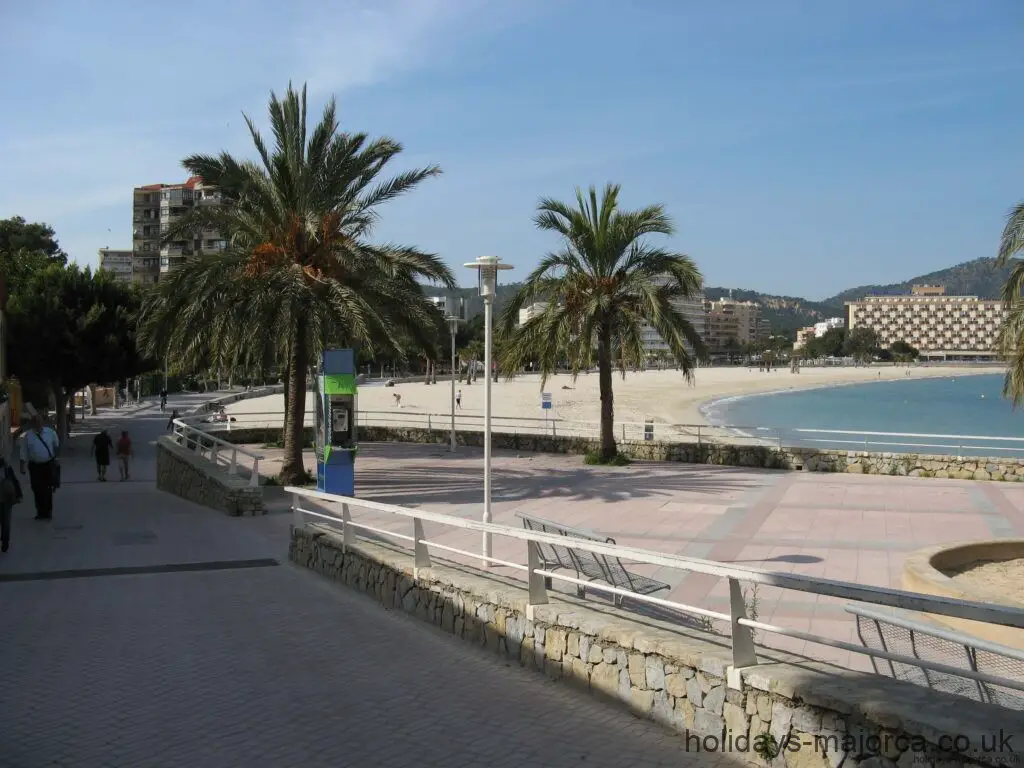 There are a number of activities to keep holidaymakers entertained including windsurfing, jet skis, water skiing, paragliding, pedaloes and inflatable rides.
Please be aware that alcohol and glass bottles/containers are illegal on all Palma Nova's beaches.
Also, worth noting is that this beach has special water wheelchairs to assist disabled holidaymakers get to the water with the assistance of the lifeguards.
The Palma Nova beaches are some of the nicest in Majorca and are a great place to relax all year round.
Palma Nova Beach Fun
At the beach, there are many things that you can do to have fun.
You can go swimming in the sea, build sandcastles, or play beach volleyball.
If you are with friends, you can also play games like frisbee or football.
Alternatively, you can also just relax on the beach and enjoy the sound and the smell of the sea!
Palma Nova Beach Safety Tips
Never swim alone. There should always be someone else with you in case of an emergency.
Swim in areas where there is a lifeguard on duty.
Don't drink alcohol before swimming. Alcohol can impair your judgment and affect your swimming ability.
Be aware of your surroundings. Don't swim too far out from the shore. Be aware of currents and waves.
Wear proper sunscreen to protect your skin from the sun's harmful rays.
If you get caught in a rip current, don't panic. Swim parallel to the shore until you escape the current. Then swim back to the shore.
Palma Nova Beach Weather
| Month | oC | High oC | Low oC | Sea oC |
| --- | --- | --- | --- | --- |
| Jan | 10 | 16 | 4 | 15 |
| Feb | 10 | 16 | 4 | 15 |
| Mar | 12 | 18 | 6 | 15 |
| Apr | 14 | 20 | 8 | 16 |
| May | 18 | 24 | 12 | 18 |
| Jun | 22 | 28 | 16 | 22 |
| Jul | 24 | 31 | 18 | 25 |
| Aug | 25 | 32 | 19 | 26 |
| Sep | 21 | 28 | 17 | 25 |
| Oct | 19 | 24 | 13 | 22 |
| Nov | 13 | 19 | 8 | 19 |
| Dec | 11 | 16 | 6 | 17 |
Palma Nova beach average temperatures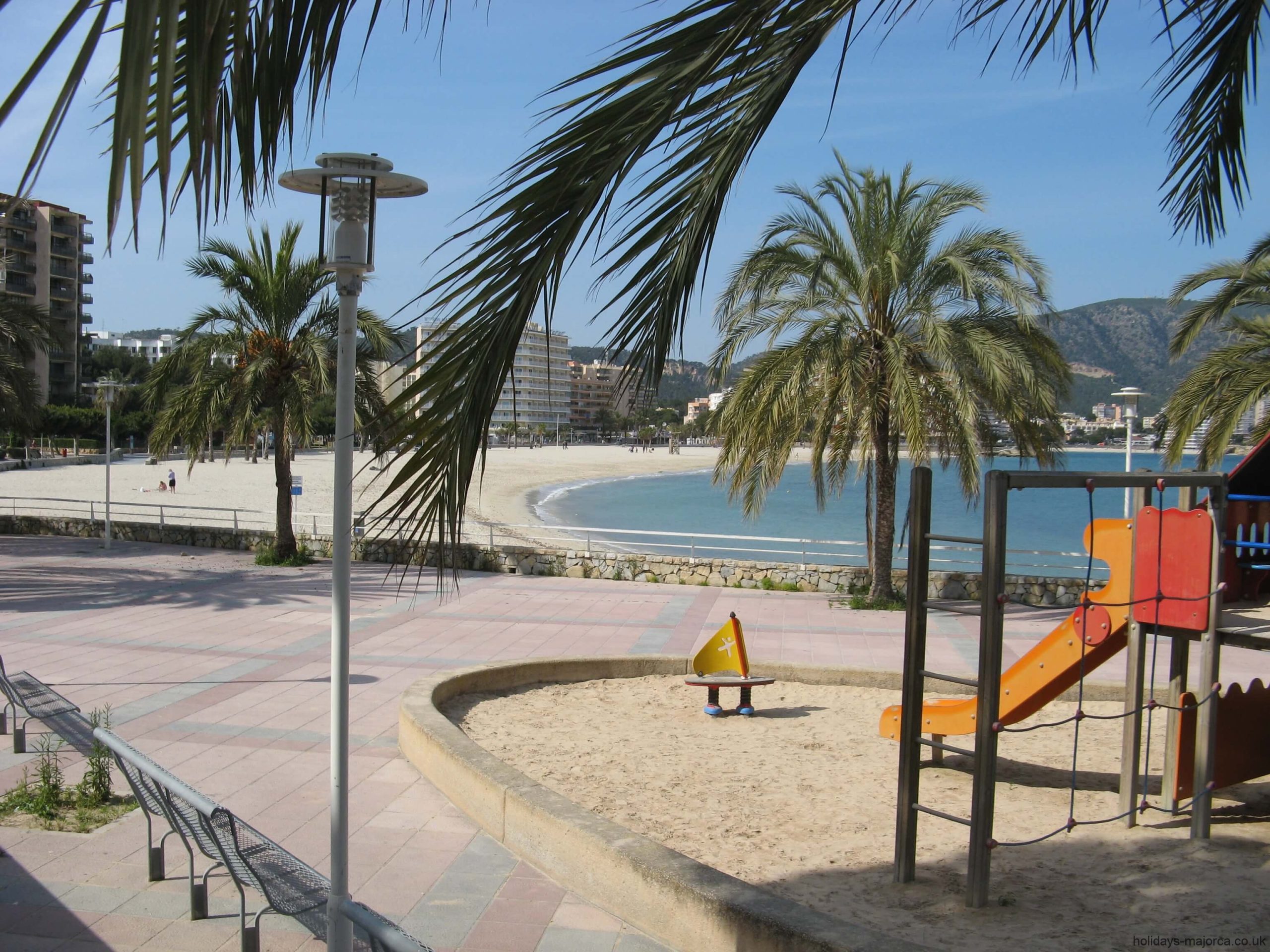 Summary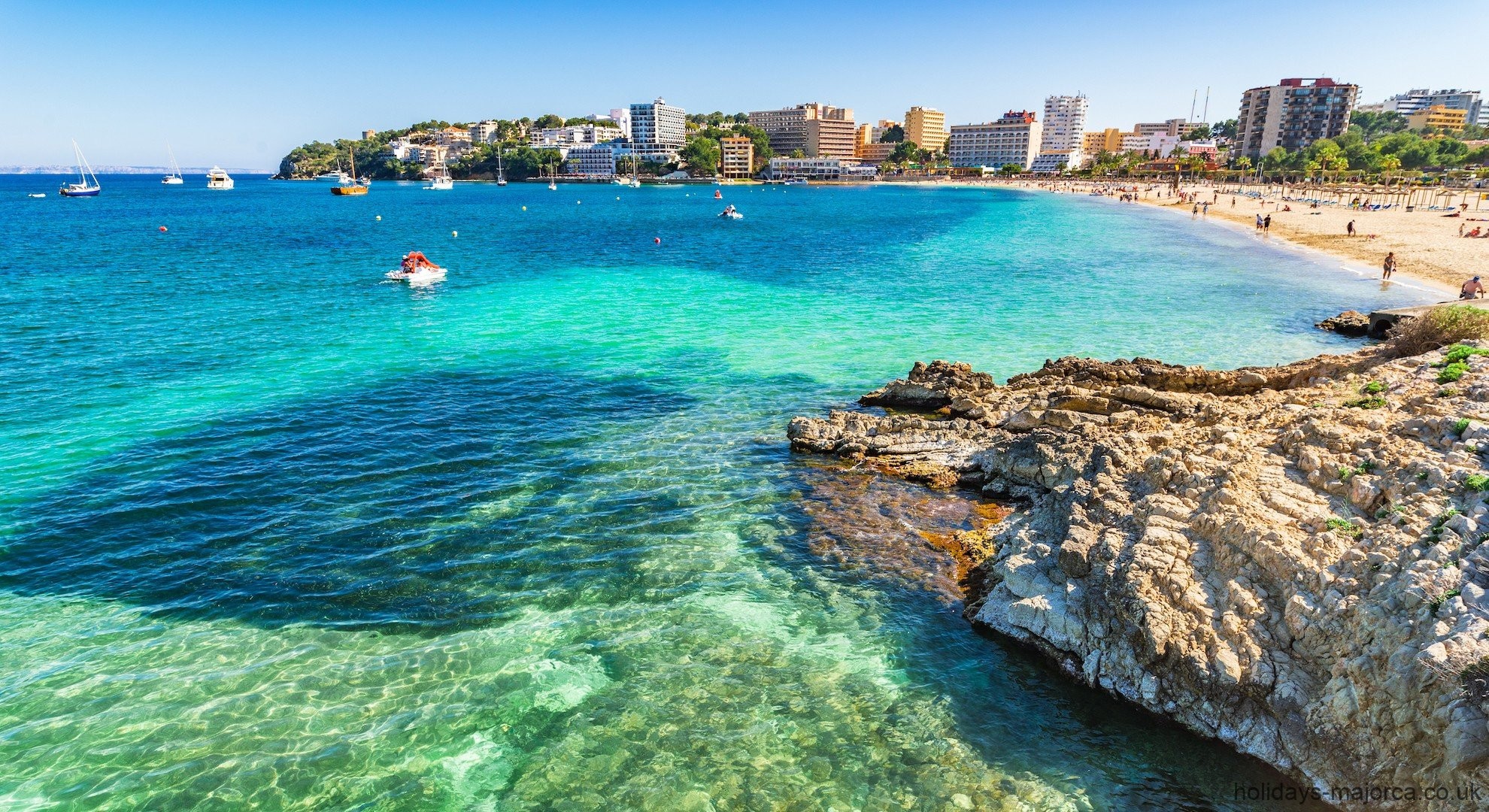 Article Name
Description
Come and enjoy the sunny weather and beautiful beaches of Palma Nova! This is the perfect place to relax and soak up the sun, with plenty of activities on offer to keep you busy. From windsurfing and kitesurfing to sailing and kayaking, there's something for everyone to enjoy. And when you're ready to take a break from the water, there's plenty of restaurants and bars to choose from. So what are you waiting for? Come and enjoy the perfect holiday in Palma Nova!
Publisher Name
Publisher Logo