Marineland Majorca is a marine park and zoo located in the municipality of Calvià on the island of Majorca, one of the Balearic Islands off the coast of Spain.
Marineland Attractions
The park covers an area of ​​11,00 m2 and is home to over 200 species of animals, including dolphins, sharks, penguins, and sea lions.
The park offers a variety of dolphin-themed attractions, including a dolphin show & a dolphin encounter.
The dolphins at Marineland Majorca are well-trained and are known for their friendly and playful nature.
The park also has a number of rides and attractions, including a water park, an aquarium, and a 4D cinema.
Marineland Majorca is at the entrance of Puerto Portals which is about 5 minutes from Palma Nova, and 15 minutes from Palma de Mallorca by bus or car.
The following buses from Palma de Mallorca will take you past Marineland Majorca:
102, 103, 104, 106, 107, or 111
If you're staying in Palma Nova, the following buses are available:
104, 106, or 107
The park usually opens for the season at the start of the Easter Holidays and stays open until the end of the summer season in mid-October.
Make sure you take swimming costumes for the children, as there is an outdoor splash park called Kids Zone which is a great place for them to cool down & have some fun.
Shows
It's a good idea to plan your day around the showtime hours.
There are currently 3 shows that are performed each day:
Each show is staggered throughout the day with 2 showings of each & about an hour between shows where you can use the time to visit the aquariums, splash park, etc.
Dolphin Show
The Dolphin show is probably considered the main event for most people & is performed in pools that are located in the centre of the park.
There is plenty of seating in the arena, but some may find the steps quite steep.
If you have mobility issues, make sure you enter the arena via the ground entrance & take a lower seat.
People located near the dolphin pool may get a friendly splash or two from the dolphins!
Sea Lion Show
The sea lion enclosure is located just behind the dolphin arena on the beach side of the complex.
There is no seating, but instead, stand & watch from around the poolside.
Parrot Show
The parrot show is located in the far corner of the complex just to the side of the Sea Lion area.
There is a concrete seating stand with a few cushions dispersed around it.
The stand steps are quite steep & high.
Aquariums
There are various aquariums located around the park including:
Shark tank
Turtles
Exotic fish
Aviary
The park also has a walk-in aviary which is home to many species of birds.
Normal opening times are:
09.30 to 18.00 (ticket office closes at 16.00)
Marineland Areas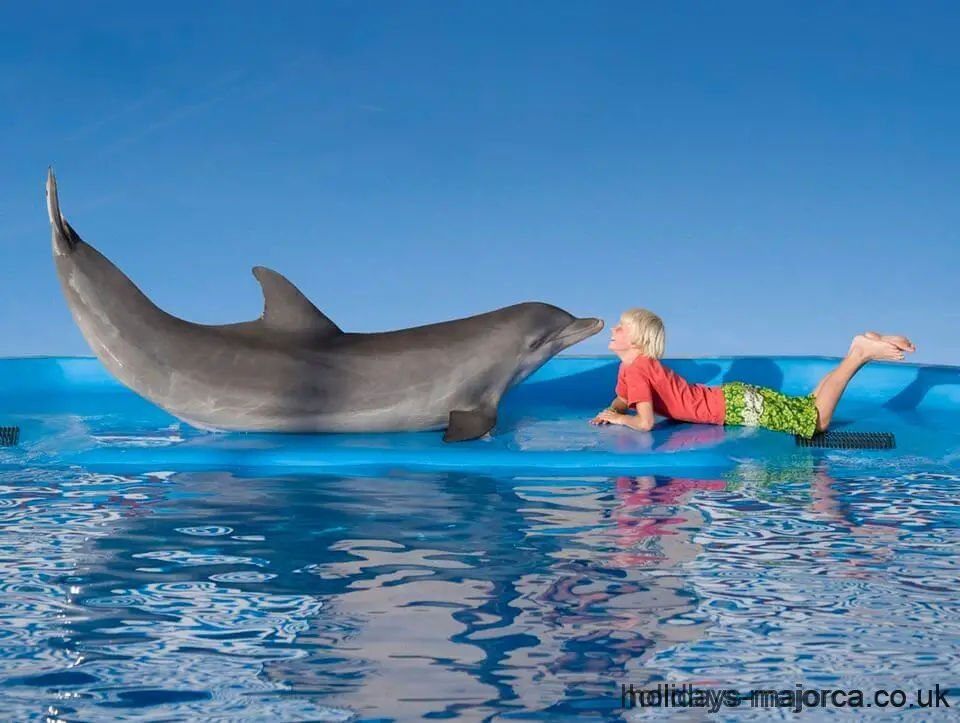 Dolphins – intelligent and friendly Bottlenose dolphins (Delphins mular in Spanish) which can be visited in the sub-aquatic tunnels, every day between 11.45 and 15.45. Private visits can be also be arranged if you contact the park beforehand. The dolphins at Marineland Majorca are a popular tourist attraction.
Californian Marine Lions – agile, friendly and playful, these creatures will please youngsters and grownups alike.
They can be enjoyed every day between 11.30 and 15.30.
Exotic birds – you'll be able to learn about different birds, their abilities and natural habitats, every day between 10.15, 13.00h, and 16.30h
Sharks and 7 seas Aquarium – Visit the shark pool where they live surrounded by fish from 7 different seas. There are over 30 sharks at Marineland Majorca, including Nurse, Blacktip, Whitetip, and Hammerhead sharks. The sharks are well-cared for and are a popular attraction at the park.
Tropical Aquarium – learn about turtles, tropical fish and different colourful sea life.
Tropical House – Snakes (boa, anaconda, python), iguana, alligators, lizards, spiders, etc. You get the picture, not for the faint-hearted!
Birds – exotic birds from Africa, America and Australia
Penguins – visit the penguins in their water and rock habitat.
Other animals – pelican, marine turtles, ray-fish, etc.
Kids park – Mini-park in the guise of a pirate ship with a pool for the younger ones to refresh and slide into.
Expect to pay around €25 for adults and €16 for children. You can get discounts if you book online at http://www.marineland.es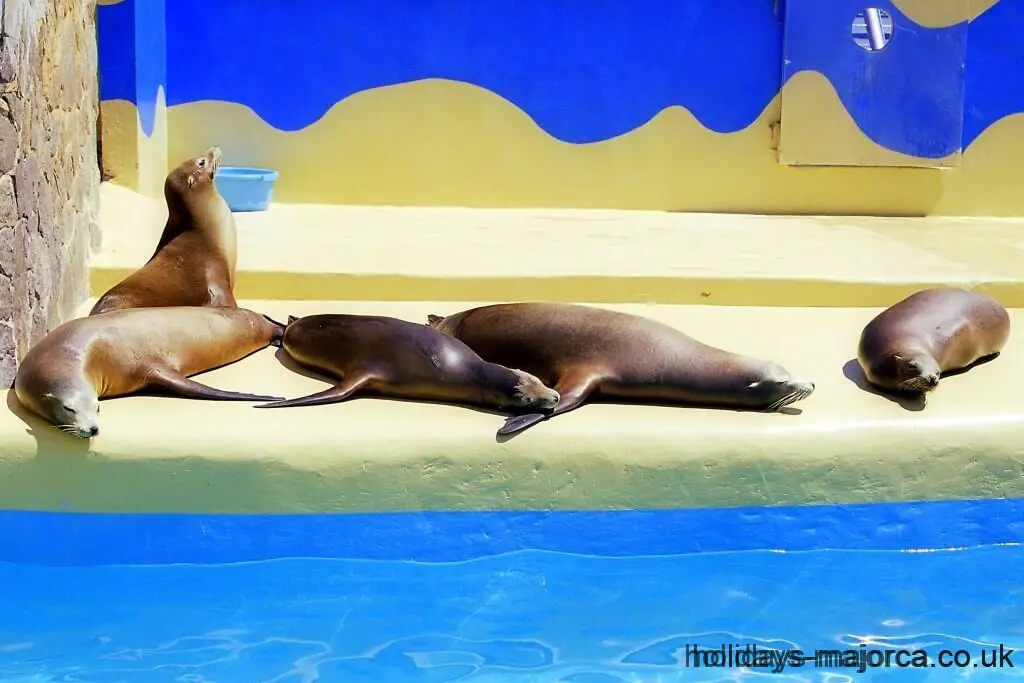 Map To Marineland
Summary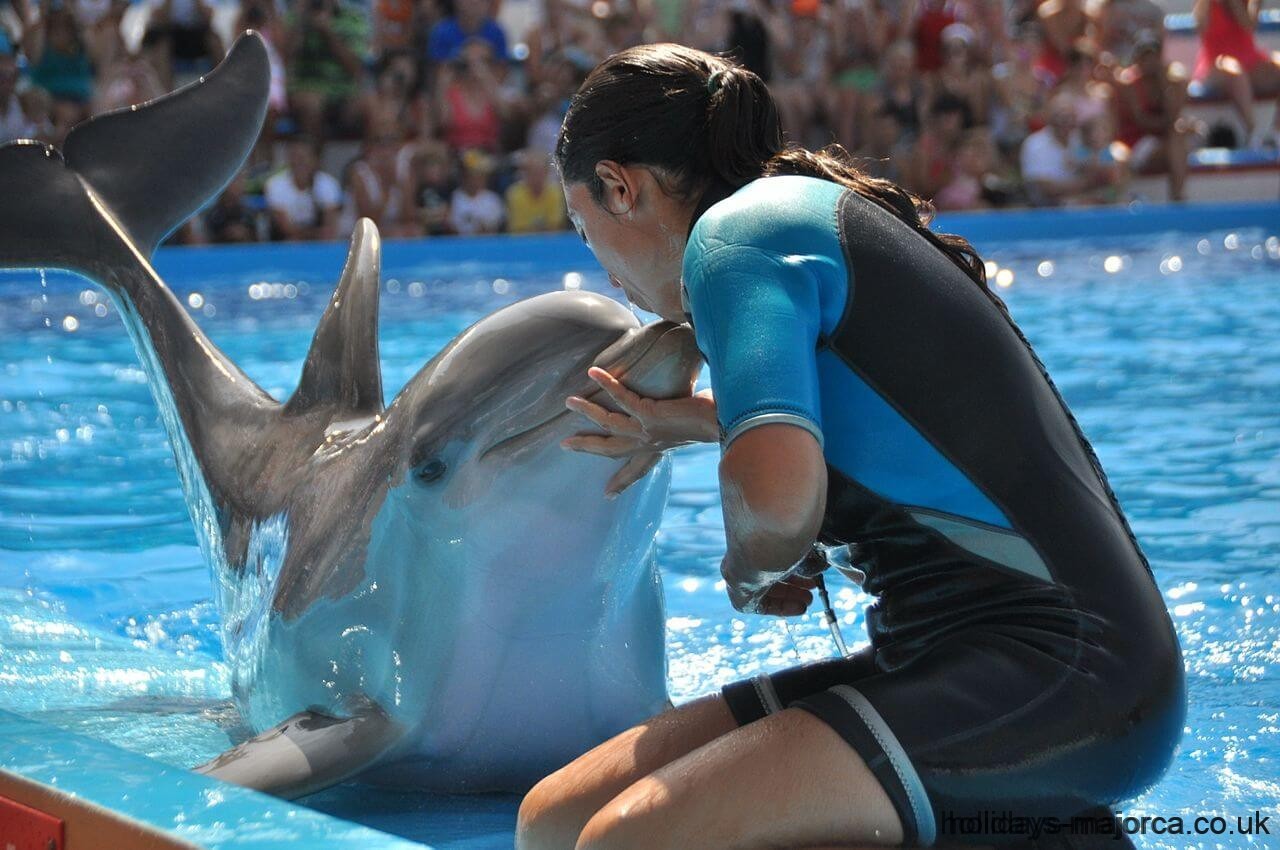 Article Name
Marineland in Puerto Portals
Description
A guide to Marineland Majorca with pictures and information about what to expect from your visit. Includes map and contact details.
Publisher Name
Publisher Logo