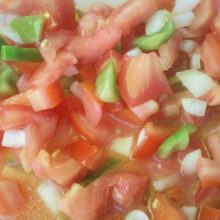 For the hot summer days, a salad is the best option to enjoy as a meal, and which could be fresher than Majorca's own Trampó salad. Preparation Time: 10 minutes Serves: 4 […]
read more...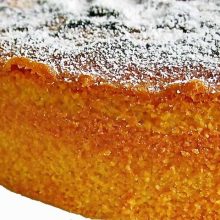 Majorca is well known for its almond trees, especially during late winter, around February / March, when they are seen covered in white or pink flowers. This traditional almond cake […]
read more...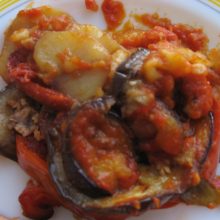 Tumbet recipe Ingredients may vary a little (some Tumbet recipes also have courgettes added), but this is the way I've always made it – and it seems to go down […]
read more...
After the triumph of the last "coca", here you have a new "coca", this time made with red peppers. Coca de Pebres can also be served as a starter or great […]
read more...
Originally 'invented' in the Valencia area of mainland Spain, this dish is nevertheless much in evidence in Majorca and can be found on most restaurant menus. 'Paella' refers to the […]
read more...