Majorca Cycling Route 5 from Sencelles and Santa Eugènia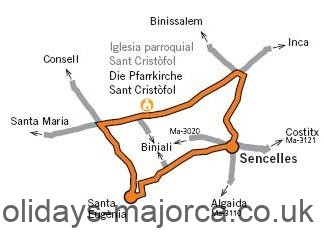 This well-signposted route starts in Sencelles, passes through Santa Eugènia and returns to Sencelles.
Duration: 1.5 hours
Distance: 19 KM
Difficulty: easy
Mountain bike required: no
Circular route: yes
The route starts in Sencelles and proceeds along a narrow road to the village of Santa Eugènia. On this road you'll pass the Morish cemetery and the Roman necropolis on the road towards Pina.
At Santa Eugènia visit the Hermitage of Son Seguí and Torre d'es Pou. From Santa Eugènia, head towards Consell, but turn towards Inca at the intersection with the Santa Maria-Inca road and then take the road to Sencelles at the intersection with the Binissalem-Sencelles road.
Get back to Sencelles where there is also an outdoor market held every Wednesday.
---