Majorca Cycling Route 4 – Llucmajor and surroundings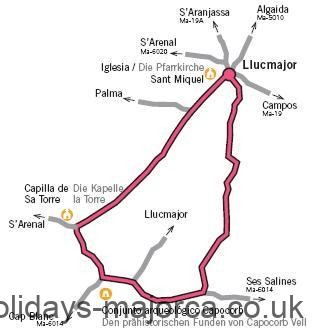 This route starts in Llucmajor, passes by the Capocorb Vell archaeological site and ends back in Llucmajor.
Duration: 2 hours
Distance: 30KM
Difficulty: medium
Mountain bike required: no
Circular route: yes
Starting in Llucmajor follow the turn-off to Palma to the right off the high street, proceeding along a narrow road flanked by dry stone walls and farms to arrive at Capocorb vell, a prehistoric site.
Capocorb Vell is a well-preserved talaiotic settlement, where round talaiots can be seen. On the way a number of sixteenth-century defence towers can be seen, such as s'Enderrocat, Cap Blanc, Cala Pí o S'Estalella.
And not to be missed are the cliffs of Cabo Blanco before returning towards Llucmajor on the road which runs parallel to the above road, where there is an outdoor fruit and vegetable market on Wednesdays, Fridays and Saturdays, and a flea market on Fridays.
---