The Spanish Civil Guard has observed groups of the gang robbing & sometimes assaulting people, normally carried out by young Mallorcans aged 17 to 18 on weekends.
A new phenomenon has arisen in the field of crime, incivility, and the culture of anything goes, which adds to the usual summer of excesses of Magaluf, such as prostitution, drug dealing & the overindulgence of alcohol.
It is carried out by a group of around twenty young people from Palma, who are between 17 & 18 years old.
This new crime spree occurs especially on weekends, when these young people travel to the resort.
They do not aspire to get drunk, to flirt or dance in nightclubs, like other youngsters of their age.
At least that is not their main objective. They are left to "do a Maga" ('Maga' is the diminutive of Magaluf).
What do you mean by this expression – do a Maga?
They enter the scene at dawn. Usually, on Fridays and Saturdays, when tourists are carrying on their backs the excesses of a hectic night full of alcohol and, in some cases, drugs.
The gang takes advantage of this state of inebriation and the fact that the tourist is walking alone, disoriented by drunkenness or drugs & approaches them in the middle of the street.
The main objective is to rob them, although the assault can also lead to aggression if the tourist resists.
The phenomenon has been observed by the Spanish Civil Guard, which is currently working to identify the members of this gang.
Last year, there were already some interventions by the Civil Guard with regards this criminal activity. Finding, in some cases, the offenders were minors with prior convictions and a history of criminal activity.
Where do they operate?
The gang tends to operate in and around the neon paradise of Punta Ballena, a hotbed of tourists in the summer months.
Although they form a stable group of about 15 to 20 people, on the ground they tend to move in smaller groups of five to six whilst they hunt down the unwary tourist, paying particular attention to those that are drunk & alone.
At the municipal level, some voices have already emerged calling for the same force against this phenomenon that is being asked against street prostitutes, street vendors & pub crawling.
Is there anything I can do to protect myself?
Don't walk home alone.
Ensure you move in a group, especially in the early morning when on your way back home from a night out.
Don't get so drunk that you aren't aware of your surroundings & look like an easy target.
Consider carrying an audible personal alarm – see below:
[amazon_link asins='B00NSJGSS8,B0785PKMMG,B07C9CC36C' template='HM-ProductCarousel' store='hmwebsite-21′ marketplace='UK' link_id='35409e83-33d4-11e7-9956-4b17e638085d']
Please follow and like us:
Summary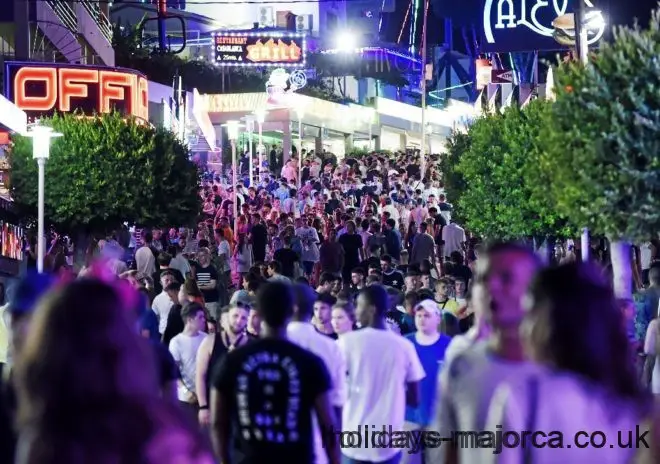 Article Name
Gang of Majorcan youths are stealing from drunk tourists in Magaluf
Description
The Spanish Civil Guard has observed groups of the gang robbing & sometimes assaulting people, normally carried out by young Mallorcans aged 17 and 18 on weekends.
Author
Publisher Name
https://holidays-majorca.co.uk
Publisher Logo