Sineu's Market in Majorca
When:
2021-01-20T00:00:00+01:00
2021-01-21T00:00:00+01:00
Where:
Sineu's Market
07510 Sineu
Illes Balears
Spain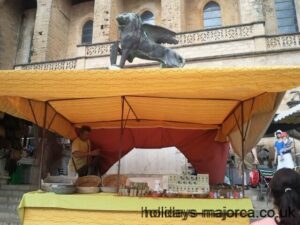 In 1306 King Jaume II inaugurated Sineu market and it has been open every Wednesday since. The locals visit the market mainly for live stock, fruits, vegetables, cheese, cold meats and tools, but they also shop alongside the tourists for clothing, leather bags, handcrafts, etc…
To visit Sineu market, you can travel either by train or by car (we advise parking near the train station) and prepare yourself for a full morning trading… it is a big market! The market has lots of atmosphere, as all the bars in town will be open, offering traditional Majorcan snacks such as "pa amb oli" (brown bread with oil, tomato and cheese or cold meats) or "frit" (traditional fried pork, potatoes, onion, liver, kidneys, peppers and tomatoes).
Sineu Market
During your visit the market, you'll be able to also enjoy this royal town. You'll walk around the stalls setup in the market square, continuing through the narrow stone streets going up to Sta Maria's Church, passing the old "Palau dels Reis de Mallorca" (Kings of Majorca Palace), the Town Hall located in an old convent, and the surrounding streets where you'll find crosses, medieval drinking wells / watering holes, and the monument to Francesc Alomar, a local cyclist who died in 1955.
Sineu's Santa Maria Church
Santa Maria's Church is dated from 1248, but after a serious fire, required to be rebuild in 1505 maintaining the original Gothic style. Next to the church, in front of the original cemetery, in the rectory, a medieval pottery exhibition can be visited.
The copper winged lion which you'll see next to it dates from 1845 and represents Saint Mark.
The King's of Majorca Palace was built by James II of Majorca in the 14th Century over the top of a Muslim building, as his second official residency. Nowadays cloister nuns inhabit the palace as since 1583.
On your way back to the car, stopping at the Art's Centre, might be well worth your time to enjoy some contemporary artist's exhibitions. The centre is located in the train station building, which dates from beginning of the 20th century.
Summary
Event
​
Sineu's Market in Majorca
Location
Since 1306 every Wednesday, the market is open in Sineu. The market is ideal for buying local cheeses and cold meats, vegetables, fruits, live stock, leather bags, clothes, tools and handicrafts.
---