Semana Santa Majorca (Holy Week)
When:
09/04/2017 – 15/04/2017
all-day
2017-04-09T00:00:00+02:00
2017-04-16T00:00:00+02:00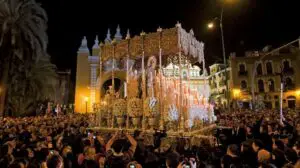 Semana Santa translates to 'Holy Week' in English and is celebrated extensively throughout Spain. It is the last week of Lent before Easter in the Christian calendar and is probably the biggest religious festival in Majorca. The festival celebrates the last week of Jesus' life before being crucified.
Palm Sunday (Passion Sunday) sees the start of the celebrations across the entire of Majorca, as churches perform traditional blessings of palm and olive branches. There are usually firework displays and parades through the streets of many towns at night during this period.
On Maundy Thursday the procession of 'La Sang' can be seen through the streets of Palma de Mallorca.
Summary
Event
​
Semana Santa (Holy Week) in Majorca
Majorca
Details of the Majorca activities regarding the religious festival of Holy Week (Semana Santa), celebrated annually throughout Spain.
---