San Sebastian Festival in Majorca
When:
19/01/2021 – 23/01/2021
all-day
2021-01-19T00:00:00+01:00
2021-01-24T00:00:00+01:00
Where:
Palma de Mallorca
Palma
Balearic Islands
Spain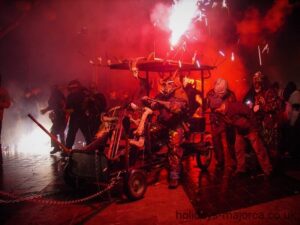 After the Christmas holiday season, Palma de Majorca celebrates the patron saint of Palma – San Sebastian – on the 20th of January. The complete program can be checked at Palma de Majorca's website. Sebastian was a Roman Captain in Majorca who converted to Christianity and was tortured for abandoning the Roman gods. As he survived the torturing, he became a protector of Christianity in Majorca, taking care of the sick and needed. The Romans sentenced him to stoning and then threw his body into the sewers as a lesson.
The celebrations start on the 19th with traditional activities where giants dance and human castles are made before lighting barbecues in the main streets of the city where neighbours and visitors can enjoy Majorca's meats while preparing for a night of music. At 22:00 concerts in 10 different squares of the city start. Each square plays different styles of music for both young and old to enjoy the celebrations.
On the 20th popular meals are prepared in Bellver's Castle and in the afternoon traffic is blocked to enjoy cycling activities around the city, as well as children's activities in different areas of Palma de Majorca.
Then on the coming Saturday there is the grand ending of the celebrations with fireworks and 'correfocs', a show called aTIÀr FOC. At 20:00 the devils come out to 'burn' the city. During the next 2 hours the devils will run through the streets, followed by the people, dancing with fire and sparkles. Appropriate clothing, including eye protection, is a must. At 22:00 everybody meets in front of the cathedral to enjoy the closure of the celebrations and the fireworks.
Summary
Event
​
San Sebastian Festival in Majorca
Location
​
Palma de Majorca

,

Majorca
Details of the annual San Sebastian festival in Palma de Mallorca. Includes location map and photos.
---