Medieval Fair in Capdepera Majorca
When:
17/05/2019 – 19/05/2019
all-day
2019-05-17T00:00:00+02:00
2019-05-20T00:00:00+02:00
Where:
Medieval Fair in Capdepera
07580 Capdepera
Illes Balears
Spain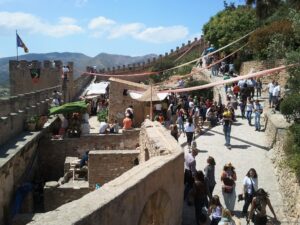 In 2000, the first medieval market was organised for the 700 year commemoration of the foundation of the Capdepera Castle by King Jaume II in 1300 AD. The market repeats every year on the third weekend of May.
During 3 days the town of Capdepera dresses itself with medieval garments, full of colours, sounds and smells which transport the visitor back in time.
The townhall provides wood shields to the families, who paint their heraldic family name representation on them. Then the shields are hung on the front of the houses or from the windows.
As well as the market, you'll be able to enjoy medieval art demonstrations, traditional musicians, falconers, etc.
The market sellers get into the spirit of things by dressing up in medieval clothing. All the stalls are handcrafted goods. You'll find traditional herbalists, woodworkers, ironworkers, magicians, musicians, etc. During the market you'll also be able to enjoy live medieval music.
The market started in the year 2000 and has gradually grown size. Last year there were over 80 stalls opened from 10am till midnight. The market runs from Orient square, through Major Street, all the way to the top of the castle.
Special activities of this year 2011:
Friday:
at 18.00 – Horses show with the medieval lords
at 21.00 – Fire race with the Devils from the Castle to the Square of Sitjar
at 23.00 – Live Music at the Square of Menjua
Saturday and Sunday:
at 10.00 – "Batucada" from the walls of the castle around
at 11.00 – Horses show with the medieval lords
from 20.30 – Live music, devils and fun round town
Summary
Event
​
Medieval Fair in Capdepera Majorca
Location
Details of the annual medieval fair in Capdepera, Majorca. Includes event dates, activities and location map.
---