Majorcan Almonds – Winter Flowers
When:
2017-01-07T00:00:00+01:00
2017-01-08T00:00:00+01:00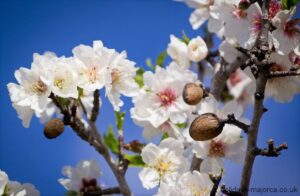 At the end of January, the almonds flower with beautiful white with pink tone flowers marking that the end of winter is near and spring will soon arrive. These views are a wonder for any photographer who will love spending hours trying to catch all the colours and beauty in the fields.
In Majorca there are around 5,000,000 Almond Trees distributed all over the island. From the Puig de Randa you will enjoy beautiful views of the centre of the island covered in a white carpet of white flowers. If you wait for sunset, you'll be fascinated with the colours.
At the end of summer the almond nuts must be harvested. This is usually done with traditional methods to avoid damaging the tree. The almonds are collected by hitting the branches with a stick which fall into nets below. It is a hard and tiring job which does not bring many benefits, as the price of almonds has dropped in recent years.
Almond fruits can be enjoyed natural, toasted or in many sweet and 'saladas' dishes. It can also be used for perfumes and  hygiene products. Majorcan almonds are sweet and with a high percentage of oil which makes it of a high quality. Many desserts in the island are based on almonds, specially 'Gatò' that it is a typical Majorcan cake, as well as ice cream, milk and honey.
In 2010 the first Almond Fair was introduced to become a guide to the many uses of the almond tree. This fair happens the first Sunday of February in Son Servera. At the fair, visitors will enjoy products derived from almonds and the almond wood, as well as art and handcrafted products.
Summary
Event
​
Majorcan Almonds - Winter Flowers
Location
Details of the annual Almond tree blooming in Majorca. Includes best viewing location map and photos.
---