Grape Harvest Festival at Binissalem (Fira Vermar) Majorca
When:
11/09/2020 – 25/09/2020
all-day
2020-09-11T00:00:00+02:00
2020-09-26T00:00:00+02:00
Where:
Binissalem Grape Fesival
07350 Binissalem
Balearic Islands
Spain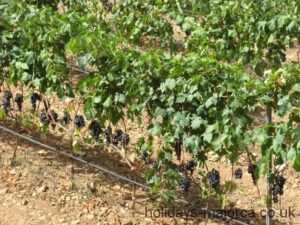 Binissalem is at the foot of the Tramuntana Mountain, a UNESCO heritage site, and the region gives its name to one of Majorca's Wine Denomination of Origin. The town was declared a Historical Artistic Monument in 1983.
Since the 15th Century Binissalem's wine has been recognised as a good wine and since the end of the 19th Century, its wine has grown more popular thanks to its deep color, special scent and good taste. The Wine of this region became an original denomination in 1991 with specific growth, and wine ageing techniques. The region has more than 300 hectares of wine yards. The regional grapes used are Son Moll, Macabeo, Parellada, Manto negro, Callet, tempranillo y Monastrell.
Each September Binissalem town celebrates its most important festival, related to the harvesting of the grapes to make the wine. Over the last 9 days of the celebrations ("Vermada") the town is a hive of activity with people, dances, singing, eating, drinking, and other events.
The festival starts with the welcoming of the grape harvesters at the Town hall,  surrounded by traditional Majorcan music with bagpipes and flutes. Then on the last Sunday, the harvesters take the unfermented grape juice to be blessed and in the afternoon there is an open-air celebration at the foot of the Church, where everybody is invited to taste this year's wines.
During the festival a special Binissalem dish is prepared known as 'Grape Harvesting Noodles' (Fideus de Vermar), made with lamb and assorted spices, giving it a strong rich flavour.
Here are some of the types of events you'll be able to enjoy:
Class of Wine Tasting of Binissalem Wines has been organised.
World Dancing
Wine Harvesters Demonstration
International Cooking Fair
Jose Luis Ferrer's Rural Race
Supper of Harvesting Noodles (Fideus de vermar) with live music
Correfoc after the meal
Traditional and Handcrafts Market
3rd Harvester's Championship
Inauguration of the 8th Wine Fair
Great Wine Closure Party
Giants Dancing
Free Wine for everybody
Popular and Traditional Dancing
Summary
Event
​
Grape Harvest Festival at Binissalem (Fira Vermar) Majorca
Location
Details of the annual Binissalem wine fair (Fira Vermar). Includes photos, location map and list of activities.
---