Cala Ratjada Llampuga Festival (Golden Mackerel)
When:
11/10/2019 – 13/10/2019
all-day
2019-10-11T00:00:00+02:00
2019-10-14T00:00:00+02:00
Where:
Cala Ratjada Llampuga Festival
07590 Cala Ratjada
Illes Balears
Spain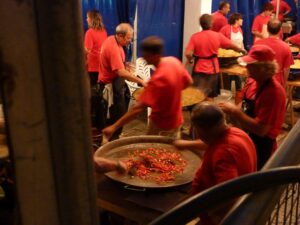 If you find yourself in Cala Ratjada on the second weekend of October, you will come across a festival dedicated to – a fish!
The fish in question is the Llampuga (pronounced yam-poo-ga) or Golden Mackerel in English, and at this time of year they are being landed at this and other ports on Majorca. The festival happens over three days and nights, Friday, Saturday and Sunday, each having its own theme.
For instance on Saturday night there may be a giant paella containing the Llampuga, I saw the pan from the previous night, it was so large that it had to be transported on the back of a lorry. On the day I attended, there were a large number of stalls around the show area, each featuring a different dish containing the Llampuga.
Hotels and restaurants around the island come up with a recipe for the fish and offer it at the festival. There is a fee to enter the area, but this gives you a number of vouchers (six when we went), which you present at one of the stalls in exchange for your selected dish – be aware that even the deserts contain the fish!!
There are even vouchers for a couple of drinks too and extra vouchers can be purchased once inside the event. The Llampuga itself has a taste that is a cross between a sardine and a mackerel, with a pleasant texture.
Large tents containing long tables and benches are provided for you to sit, eat and drink once you have selected your dishes. There are two 'sittings', one in the afternoon and one in the evening, both are well attended but most of the locals go to the evening sessions.
Entertainment is provided and a good atmosphere is created for this most unusual festival in Cala Ratjada.
Summary
Event
​
Cala Ratjada Llampuga Festival (Golden Mackerel)
Location
Details of the Cala Ratjada Llampuga festival held each year to celebrate the seasonal catch. Includes location map and photos.
---