Angel Sunday Majorca
When:
2017-04-23T00:00:00+02:00
2017-04-24T00:00:00+02:00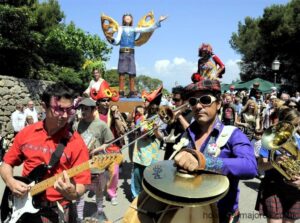 The Sunday after Easter is known as "Domingo del Ángel" (Angel Sunday) in Majorca, a day celebrated in the capital, Palma de Mallorca, with a procession, blessings and plenty of traditional food.
This celebrations date back from the early 15th century to 16th century, when it was known as the "Festividad del Santo Custodio de Palma". In 1982 this celebration reappeared with its present name.
In the early hours of the morning the celebrations start with a procession from the Town hall to the "Castillo de Bellver". Once at the castle there are musicians, folk dancing, "Gigantes y Cabezudos" that are typical figures of Majorca and traditional customs. Food is served and special games for the children are planed during the day.
It is a family orientated day, free for anyone wanting to participate and have fun enjoying the traditions of Majorca.
Summary
Details of the annual Angel Sunday festival held in Majorca.
---