Majorcan Toasted Sandwich Recipe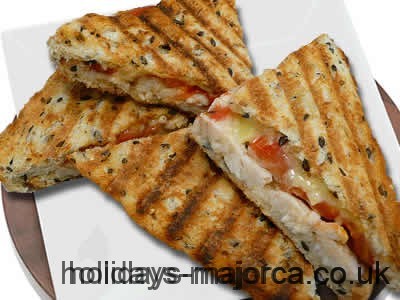 You've all had a toasted sandwich in a Majorcan bar – ever wondered how they are made? With this toasted sandwich recipe you can now recreate that great taste in your own home and here's how…
Preparation time: 8 minutes
Serves: 1
Ingredients
2 x slices of white bread
Mayonnaise (to taste)
Butter or olive oil (to taste)
Filling (cooked bacon, cheese, etc)
Preparation
Put a heavy based frying pan on a medium heat – no oil or fat.
Butter or oil the two slices of white bread. On one slice put a layer of mayonnaise. Decide on your filling – anything from just cheese to a full salad and cooked bacon filling.
Assemble just as you would a 'cold' sandwich. Slightly press the sandwich together and push on to hot pan (careful not to burn your fingers!).
After a couple of minutes, using a fish slice or spatula, check for 'toasting' and if a good colour, turn the sandwich on to it's other side and repeat the process.
NOTE: For best results, slice fillings thinly.
Now enjoy your toasted sandwich – the filling should be warm, but still retain a 'crunch'.
Summary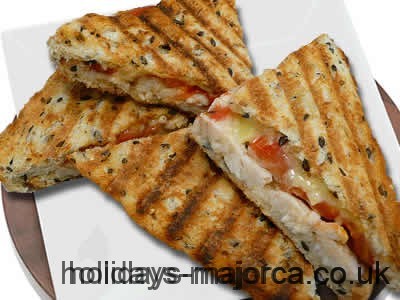 Recipe Name
Majorcan Toasted Sandwich
Published On
Average Rating





Based on 1 Review(s)
---